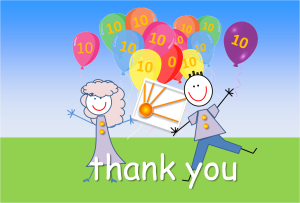 A close family member is in the process of starting up their own business and is experiencing the same mix of anxiety and excitement that we experienced just over 10 years ago when we launched ourselves upon an unsuspecting world as 'First Position Performance Development'.  Our immediate instinct is to share words of reassurance with them and tell them that 'everything will work out ok', 'you'll soon adjust' etc, whilst knowing deep down that they will only partially believe this and have to put the miles in and do it for themselves before their belief will really change.
There will be much learning along the way of course, as indeed there has been for us, but maybe that's the whole point.  So as we celebrate our first 10 years we have paused and taken time to reflect and thought it would be pertinent to share some of our learnings, challenges, useful beliefs and musings.  What better place to start than Our Top 10 Things we are Most Grateful for:
Meeting new people (some of them quite challenging) who help us to think about things differently
Having strong partnerships with clients over many years and seeing them and their businesses develop and grow
The many opportunities we have to learn, develop and grow so we can facilitate, coach and run our business more effectively
Working in partnership with each other and experiencing that mutual caring, challenge, support, respect and encouragement
The variety that we experience through our Face-to-Face Group Work, Individual Coaching & Well-Being Support and Remote/Online Interactions
Being recognised and people saying ' oh, you're First Position, I've heard good things about you'!
Travelling to different countries and experiencing the rich diversity of cultures, places and people on this wonderful planet of ours
Learning from master practitioners who willingly share their, wisdom, knowledge and skills
Hearing first-hand feedback of the difference we have helped others make
Being able to do what we enjoy, are passionate about and observe that what we do is making a difference to others
So a big THANK YOU to all our friends, family, associates and clients for the big part they play in First Position's life.
As this appreciative review exercise is always rewarding … we wonder what are you grateful for today?